The New Nepenthes. Vol. 2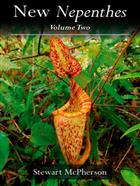 Description:
More new species of Nepenthes (tropical pitcher plants) have been discovered and named during the first two decades of the 21st century than at any point previously, including more than 53 species since the publication of the first complete studies of the genus (Pitcher Plants of the Old World, Vol. 2 and New Nepenthes, Vol. 1). This volume complements those past works and brings understanding of the genus up to date!
New Nepenthes, Vol. 2 documents all of the new Nepenthes taxa published since 2010 as well as several further new species that are described and introduced for the very first time. Numerous further new discoveries, as well as exciting and colourful expedition reports telling stories of the (re)discovery of Nepenthes on little explored mountains ensure that every page of this visually spectacular book is crammed full of exciting new information and stunning imagery!
Includes:
Accounts of 53 species of Nepenthes described since New Nepenthes Vol. 1 was published in 2011: N. abalata, N. abgracilis, N. adrianii, N. aenigma, N. alfredoi, N. alzapan, N. armin, N. barcelonae, N. biak, N. bracteosa, N. cabanae, N. cid, N. cornuta, N. dactylifera, N. diabolica, N. domei, N. erucoides, N. extincta, N. fractiflexa, N. halmahera, N. harauensis, N. hirtella, N. justinae, N. kitanglad, N. kongkandana, N. krabiensis, N. latiffiana, N. leyte, N. longiptera, N. malayensis, N. malimumuensis, N. manobo, N. maryae, N. maximoides, N. minima, N. nebularum, N. negros, N. orbiculata, N. pantaronensis, N. parvula, N. pudica, N. putaiguneung, N. ramos, N. rosea, N. samar, N. sumagaya, N. talaandig, N. tayninhensis, N. tboli, N. ultra, N. viridis, N. weda and N. zygon (note: N. amabilis, N. baramensis and N. kurata were also described, but are synonyms of plants listed above).
Accounts of 7 resurrected and re-circumscribed Nepenthes species: N. alata, N. fusca, N. graciliflora, N. hemslyana, N. mollis, N. saranganiensis and N. zakriana.
Descriptions of two brand new Nepenthes species (named and introduced for the first time).
Note: this work is specifically designed to complement the upcoming Redfern books Nepenthes – The Tropical Pitcher Plants, Vols 1, 2 and 3.
You may also like...