A Naturalist in the Amazon: The Journals & Writings of Henry Walter Bates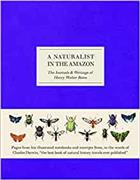 Description:
This charming book revolves around the two journals Bates produced during his groundbreaking travels in the Amazon, and his classic work The Naturalist on the River Amazons. Alongside specially selected excerpts from his book are facsimile reproductions of the pages from his journals demonstrating his talents as an artist as well as a scientist. Bates, a trusted companion of Alfred Russel Wallace, travelled with him to the Amazon in 1848. There he became fascinated by close similarities in appearance between unrelated butterflies. He found that so-called tasty species - those that are sought after by predators - had evolved to look like toxic species to escape being attacked. This idea became known as Batesian mimicry. Bates spent a total of 11 years in the Amazon, exploring the vast network of largely unvisited major rivers and their tributaries, set in the world's largest area of tropical rain forest in South America. By the time he returned to England in 1859, still only 34 years old, Bates had collected, by his own estimate, some 712 species of mammals, reptiles, birds, fishes and molluscs, and about 14,000 species of insects, of which no less than 8,000 were previously unknown.
You may also like...

Bailey, T.; McPherson, S.
Price £29.99

Lampard, S.; Gluch, O.; Robinson, A.S.; Fleischmann, A.; Temple, P.; McPherson, S.; Roccia, A.; Partrat, E.; Legendre, L.
Price £39.99
Elliott, A.; Martínez Vilalta, A. (Eds)
Price £27.50