A Newsworthy Naturalist: The Life of William Yarrell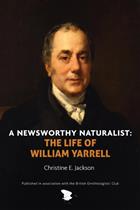 Description:
A biography of William Yarrell (1784-1856), an influential naturalist at a time when natural history was becoming an important factor in 19th century society. He wrote two important books: A History of British Fishes and A History of British Birds, still being quoted as the authorities well into the next century and admired today, especially for their delightful wood engravings. He was a member and sometime Treasurer, Secretary and Vice-President of the Zoological, Linnean and Entomological Societies. He was known to, and greatly admired by, the leading naturalists; Charles Darwin sought Yarrell's advice on several occasions. In addition to his key role as an organiser and disseminator of knowledge about the British fish and bird fauna, Yarrell also conducted significant original scientific research, being perhaps best known as the first person to recognise Bewick's Swan as a separate species from the Whooper Swan, naming it Cygnus bewickii after his illustrious ornithological predecessor.
Yarrell owned the London newsagency, Jones and Yarrell, with his partner, Edward Jones from 1803 until 1850. They held a royal warrant and supplied the Houses of Parliament as well as royalty with newspapers.
Besides his work on natural history and running the newsagency, he was a popular figure with his friends, renowned for the good food and wine served at his convivial dinner parties, and he was a prolific correspondent.
You may also like...