The Art of the New Naturalists: Forms from Nature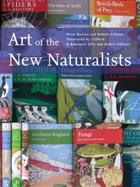 Description:
Original printing. The distinctive New Naturalist cover illustrations by Clifford & Rosemary Ellis and Robert Gillmor are the subject of this book. Offers a fascinating insight into how the creation of the cover designs has developed and progressed and will be essential reading for everyone interested in this iconic natural history series
Other titles from the series : New Naturalist Main Series
You may also like...