A Revision of the British Mites of the Genus Pergamasus Berlese S.Lat. (Acari: Mesostigmata)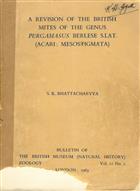 Description:
Bull. BM(NH) Zoology, 11(2): 131-242.
Condition
Wrappers. Cover torn with some loss; tape repair to spine. From the library of Dr. K.H. Hyatt (d. 2021), with his name to wrapper. Fair.
Other titles from the series : Bulletin of The Natural History Museum: Zoology
Other titles from the collection : Keith Hyatt
You may also like...