A Revision of the Lake Victoria Haplochromis Species (Pisces, Cichlidae): Part 1: H. obliquidens Hilgend., H. nigricans (BLGR.), H. nuchisquamulatus (Hilgend) and H. Lividus, Sp. N.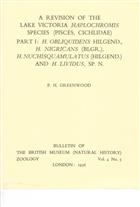 Description:
Bull BM(NH) Zoo. Vol.4 (5)
Condition
Vg.
Other titles from the series : Bulletin of The Natural History Museum: Zoology
You may also like...