A Short History of the Libraries and List of Manuscripts and Original Drawings in the British Museum (Natural History)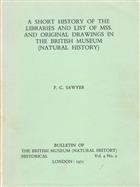 Description:
Bull. B.M. (N.H.) Hist. 4(2): 77-204
Condition
Good, spine faded, a trifle used.
Other titles from the series : Bulletin of The Natural History Museum: Historical
Other titles from the collection : Library of Pamela Gilbert
You may also like...