The Journal of Peter Good: Gardener on Matthew Flinders Voyage to Terra Australis 1801-03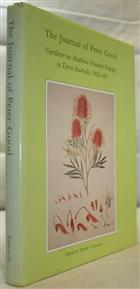 Description:
Limited edition of 250 bound copies produced for the Australian market. (Bull. BM(NH) (Hist.) Vol. 9).
Condition
In d/w, spine slightly faded. Vg.
Other titles from the series : Bulletin of The Natural History Museum: Historical
Other titles from the collection : Library of Pamela Gilbert
You may also like...