A Taxonomic Review of Species of Cinara Curtis Occuring in Britain (Hemiptera: Aphididae)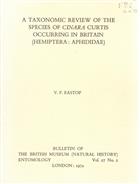 Description:
Bull. Br. Mus. nat. Hist. (Ent.), Vol. 27(2).
Condition
Vg copy. From the library of the author with his initials front cover. A few pencil annotations.
Other titles from the series : Bulletin of The Natural History Museum: Entomology
You may also like...