Abeilles de Belgique et des regions limitrophies: Halictidae (Faune de Belgique)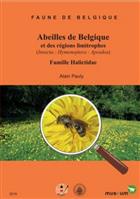 Description:
Text French. Identification keys enable the identification of the 84 species of the solitary bee family Halictidae occurring in Belgium. Species accounts include detailed descriptions of ecology, biotopes, distribution, phenology, social behaviour and IUCN Red List status.
You may also like...