Abstracts of Lectures Delivered at The Royal Institution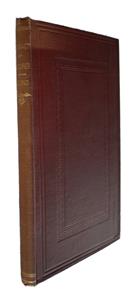 Description:
11 lectures including 'On the History of Ozone', 'On Improvements in the Manufacture of Chlorine', and an address to Chemical Section of British Association. 'On the last new Metal, Indium' is listed in the contents-page but not included in the body of the book; final lecture, "The Paraffins and their Alcohols" not in the Contents, but present.
Condition
8vo, orig. cloth, fading to spine, fore edge a little spotted. Inscribed 'H.L. Bowman from the author'. With bookplate of the Herbert Lister Bowman Library, Laboratory of Mineralogy, University of Oxford. Bowman (1874-1942) was Waynflete Professor of Mineralogy and Crystallography.
You may also like...