Adaptive Motor Habits of the Macacus rhesus under Experimental Conditions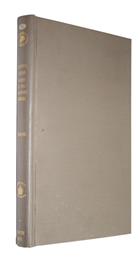 Description:
Text Russian, with Summary in English. A contribution to the problem of "labour processes" of monkeys. Scientific Memoirs of the Museum Darwinianum in Moscow.
Condition
From an institutional library, bound in library buckram, retaining orig. wrappers. A few ink / withdrawn stamps. Presentation inscription from the author, signed and dated 1957, to Professor Kenneth Oakley, English physical anthropologist, palaeontologist and geologist. In 1953 Oakley contributed to a paper which presented evidence that proved the "Piltdown Man", a skull discovered in 1913 by archaeologist Charles Dawson, and a candidate for the "missing link", was in fact a hoax.
You may also like...