Advances in Arthropod Repellents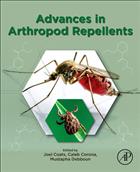 Description:
Advances in Arthropod Repellents offers the most current state of knowledge on arthropod repellents. This area of study is quickly evolving, and the evolution of novel approaches has expanded rapidly as mosquito- and tick-borne diseases become more prevalent worldwide.
Written by global arthropod repellent experts, this book begins by delving into molecule discovery and assay development, followed by the latest research and investigations of repellent developments and effects. It then offers readers a look into the global field, semi-field, and laboratory trials using various arthropod repellents, ranging from Africa, Australia, Europe, South America, and the United States. Lastly, Advances in Arthropod Repellents examines the future of spatial repellents and expert insight for further development.
Advances in Arthropod Repellents is a valuable resource for entomologists and vector control researchers and practitioners. Public health officials and developers in private, pest control companies, as well as readers in academia, will also find this useful to learn the latest information available on controlling the spread of arthropod-borne diseases with repellents.
You may also like...