Agromyzidae (Diptera) of Hungary. Vol. 3: Phytomyzinae II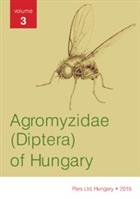 Description:
Text English. Third of a four-volume monograph on the Agromyzidae of Hungary. Not only the species hitherto found in Hungary, but also all the species which are expected to occur, are treated. This volume includes the following genera, Calycomyza, Galiomyza, Gymnophytomyza, Liriomyza, Metopomyza, Phytoliriomyza, Pseudonapomyza and Ptochomyza.
Other titles from the series : Agromyzidae of Hungary
You may also like...