American Birding Sketchbook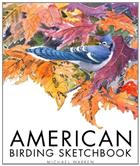 Description:
In this, the artist's sixth book, he has brought together the material collected during years of travelling to all 50 American States. The earliest trips at the beginning of the 1970's were to research work for an exhibition at the Carl Battaglia Gallery in New York but the majority of trips through the 1980s and early 1990s were to gather material for projects initiated by Jim Helzer for the National Audubon Society and Unicover Corporation.
Some of the locations and birds shown in the book are well known but there are some specialist birds and less visited locations. The book conveys the varied habitats and landscapes and richness of both plant and birdlife to be found on this amazing continent. Michael has been able to combine the enthusiasm of the dedicated birdwatcher with the unique talent of an artist able to portray the atmosphere and often intricate environment in which the birds exist and to convey the varied tapestry of American birdlife.
Other titles from the series : Wildlife Art Series
You may also like...