An Act of Purchase of the Museum, or Collection of Sir Hans Sloane, and of the Harleian Collection of Manuscripts; and for providing One General Repository for the better Reception and more convenient Use of the said Collections; and of the Cottonian Libr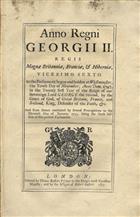 Description:
This 1753 act of Parliament was the inception of the British Museum. Later in 1881 the natural history collections were transferred to the British Museum (Natural History), in South Kensington.
Condition
Lighly soiled. Vg.
You may also like...