An Illustrated Coastal Year: The seashore uncovered season by season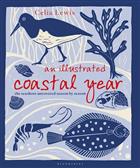 Publisher : Bloomsbury
Illustrations : 300 col illus
Description:
They say that no one in the British Isles lives more than an hour or two from the coast, a coastline of contrasts with scenery that changes from estuaries, shingle beaches, saltmarshes and sand dunes, to rocky shores, rugged cliffs, machair and bustling harbours.
Our shores are teeming with wildlife, be it in the water, on the tideline, clinging to cliffs or in the skies above them, and this beautiful book you can learn more about familiar and favourite coastal species and some intriguing lesser-known marine creatures.
Season by season, Celia Lewis's wonderful illustrations show the flowers, birds, animals, fish and insects found at that time of year. Her craft projects, using driftwood, pebbles and shells, are suitable for all ages and will encourage you to put beachcombed mementos to surprising uses. Or get creative with food and work some foraged ingredients into tasty recipes by Celia and many of our best seafood chefs.
We all love spending time near the water's edge, so next time you feel like stretching your legs along a coastal path, fancy a day trip to the seaside or are planning balmy summer holidays, dip into An Illustrated Coastal Year and be inspired by the incredible diversity of wildlife to be found around our little archipelago.
You may also like...