Arthropod Fauna of the United Arab Emirates. Vol. 1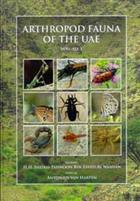 Description:
Records 570 species for the first time, including 5 genera and 87 species/subspecies new to science. Of the 79 families, 43 are not previously recorded in the UAE
Other titles from the series : Arthropod Fauna of the UAE
Click to view all titles in this series...
Harten, A. van (Ed.)
Price £75.00
You may also like...