Habitat Management for Invertebrates: A Practical Handbook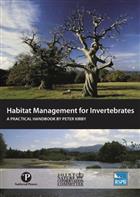 Description:
A practical guide to the management of habitat for invertebrates: it provides guidelines to enable reserve managers and conservationists to take account of the vulnerable habitat features so important to invertebrates.
The introduction gives an overview of British invertebrate species, site size and vegetation structure, management need of invertebrates and a summary of invertebrate survey methods. The author then deals, chapter-by-chapter, with each major habitat type: woodland, grasslands, lowland heaths, freshwater wetlands, and coastlands.
This is a digital reprint of the 2001 RSPB edition (ISBN: 0901930300) - there are no changes or updates from the 2001 edition
You may also like...