Arthropod Fauna of the United Arab Emirates. Vol. 3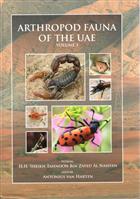 Description:
45 papers (2 on Araneae) mainly Coleoptera. Also Micro-Lepidoptera; Hymenoptera (inc. Mutillidae, Vespidae) some Diptera and Hemiptera
Other titles from the series : Arthropod Fauna of the UAE
Click to view all titles in this series...
Harten, A. van (Ed.)
Price £75.00
You may also like...