Atlas des Reptiles de Bourgogne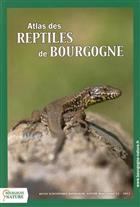 Description:
Text French. The Atlas covers the period 1999 to 2012 for the maps, but takes into account equally the historic records. Data consists of almost 9000 records supplied by more than 660 recorders. For each species there is an analysis of the records. The illustrations consist of colour photographs of the species and their habitats, and also coloured drawings by natural history artist, Jean Chevallier.
Other titles from the series : Revue Scientifique Bourgogne-Nature Hors-Série
Click to view all titles in this series...

Sirugue, D.; Varanguin, N. (Eds)
Price £39.95

Etude et Protection des Oiseaux en Bourgogne
Price £44.95
You may also like...