Bees in the genus Rhodanthidium: A review and identification guide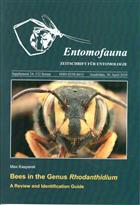 Description:
The genus Rhodanthidium is small group of pollinator bees which are found from the Moroccan Atlantic coast to the high mountainous areas of Central Asia. They include both small inconspicuous species, large species with an appearance much like a hornet, and vivid species with rich red colouration. Some of them use empty snail shells for nesting with a fascinating mating and nesting behaviour. This publication gives for the first time a complete overview of the genus, with an identification key, the first in the English language. All species are fully illustrated in both sexes with 178 photographs and 60 line drawings. Information is given on flowers visited, taxonomy, and seasonal occurrence; distribution maps are including for all species. This publication summarises our knowledge of this group of bees and aims at stimulating further research.
Other titles from the series : Entomofauna Supplements
You may also like...