Beetles of the Family Ptinidae of Central Europe / Brouci čeledi červotočovití (Ptinidae) střední Evropy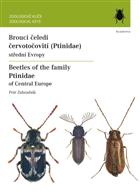 Description:
Text Czech/English. Identification keys allowing determination of species found in the Czech and Slovak Republics, as well as neighbouring regions of Central Europe. Almost all species illustrated.
Other titles from the series : Zoological Keys / Zoologické klíce
Click to view all titles in this series...


You may also like...