Ladybird Beetles of Central Europe / Brouci čeledi slunéčkovití (Coccinellidae) střední Evropy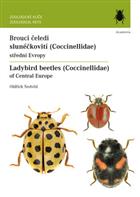 Description:
Text Czech/English. 2nd revised edition. Illustrated key to 101 species of Coccinellidae from Central Europe, with photographs of most species, including some larvae and pupae. Keys to subfamily, tribe and genus, also a key based on colour pattern on the elytra and pronotum.
Other titles from the series : Zoological Keys / Zoologické klíce
Click to view all titles in this series...

Zahradnik, P.
Price £19.50

You may also like...

Costesseque, R.
Price £32.00

Macek, J.; Straka, J.; Bogusch, P. et al
Price £26.50

Macek, J.; Roller, L.; Benes, K.; Holy, K.; Holusa, J.
Price £36.50