Bibliography on the butterflies of Russia and adjacent countries (1758–2008)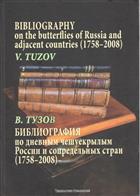 Description:
The preparation of this Bibliography took more than 30 years. It includes a total of about 8500 entries with more than 3500 authors. This reference will be of use to all who study the Palaearctic or Holarctic Lepidoptera, or the world fauna. The author is known for his 2-volume work, 'Butterflies of Russia'.
Condition
New copies, corners slightly bumped in transit.
You may also like...