Biodiversity and Natural Heritage of the Himalaya / Biodiversität und Naturausstattung im Himalaya. Vol. VI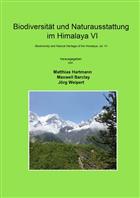 Description:
Contributions in German and English. Series covering biodiversity research in the Himalayas (taxonomy, phylogeny, faunistics and biogeography); including geology, geography, botany, veterinary zoology, zoology, especially entomology (which comprises more than 60% of the content)
Contents of Vol. 6:
Weipert, J.: 25 Jahre naturwissenschaftliche Forschung des Naturkundemuseums Erfurt und seines Fördervereines im Nepal-Himalaya (1992 bis 2017) 9
Baumbach, H; M. Hartmann & V. Otte.: Vegetation und Landnutzung im Jumla-Distrikt und dem Unteren Dolpo - Ergebnisse der West-Nepal-Expeditionen 2007 des Naturkundemuseums Erfurt 17
Long, D. G.; R. Yangzom, K. Dorji, J. Schmidt, M. Hartmann, L. Lehnert, L. Opgenoorth, J. Kluge, T. L. Koch & G. Miehe: Is there a particular need to study high altitude diversity in the Eastern Himalaya of Bhutan? A report on a Bhutanese-European biogeography cooperative venture 35
Gyeltshen, Ch.; K. Tobgay, N. Gyeltshen & S. Dema: New Species Discoveries and Records in Bhutan Himalaya 59
Panda, S.: Threatened Ethnomedicinal Plants of Singalila National Park in Darjeeling Himalaya, including their ethnic drug dosimetry: A Report on an Extensive Field Survey 83
Acharya, J. & A. Mukherjee: Honeysuckles (Caprifoliaceae) in India with special reference to the Himalaya 115
Bössneck, U. & S. Meng: Ökologie und Verbreitung der Gattung Gastrocopta in Nepal (Mollusca: Gastropoda: Vertiginidae) 135
Gittenberger, E.; P. Leda, C. Gyeltshen & S. Sherub: Distributional patterns of molluscan taxa in Bhutan (Mollusca) 143
Päckert, M.; Y.-H. Sun & J. Martens: Cradles of evolution – Hugo Weigold's biogeography of Tibet and the SinoHimalayas in the light of molecular systematics and phylogeography 153
Borkin, L. J.; S. N. Litvinchuk, D. A. Melnikov & D. Skorinov: Altitudinal distribution of skinks of the genus. Asymblepharus in the Western Himalaya, India (Reptilia: Sauria: Scincidae) 163
Martens, J.: Remarkable new Harvestman species from the Nepalese and Indian Himalayas (Arachnida, Opiliones: Phalangiidae and Sclerosomatidae) 169
Schulz, H.-J.: Bemerkenswerte Collembolenfunde aus Nepal (Insecta: Collembola) 179
Malzacher, P.: Mayflies from Nepal: Description of a new Caenis species (Insecta: Ephemeroptera: Caenidae) 183
Matzke, D.: Nachtrag zur Ohrwurmfauna Nepals (Insecta: Dermaptera). 187
Schwarz, Chr. J.; R. Ehrmann, M. Borer & Chr. Monnerat: Mantodea (Insecta) of Nepal: corrections and annotations to the checklist 201
Nagel, P.: Flanged Bombardier Beetles of Nepal (Insecta: Coleoptera: Carabidae: Paussinae), with nomenclatural and taxonomic notes and descriptions of new species 249
Huber, Ch. & J. Schmidt: Description of two new Nebria (Eunebria) species from Central Nepal with remarks on N. xanthacra Chaudoir, 1850 and N. cinctella Andrewes, 1925 (Insecta: Coleoptera: Carabidae: Nebriini) 283
Schmidt, J.: Notes on the taxonomy of Calathus Bonelli, 1810, with special reference to the C. heinertzi group from the Nepal Himalaya (Insecta: Coleoptera: Carabidae: Sphodrini) 297
Kataev, B. M.: Description of two new species and a new subspecies in the genus Ophoniscus Bates, 1892 (Insecta: Coleoptera: Carabidae, Harpalini) from Nepal and India 319
Shavrin, A. V.: A new species of the genus Mannerheimia Mäklin, 1880 (Insecta: Coleoptera: Staphylinidae: Omaliinae) from central Nepal 329
Puthz, V.: Neue Arten der Gattung Stenus Latreille, 1797 aus Nepal (3). Der Komplex des Stenus luteolunatus Puthz im Himalaya (Insecta: Coleoptera: Staphylinidae) 357. Beitrag zur Kenntnis der Steninen 333
Bordoni, A.: New data on the Oriental Xantholinini. 42. New species and new records from North India and Nepal in the Naturhistorisches Museum Basel (Insecta: Coleoptera: Staphylinidae) 379
Ricchiardi, E.: Description of a new Paratrichius Janson, 1881 from Nepal (Insecta: Coleoptera: Scarabaeidae: Cetoniinae) 389
Other titles from the series : Biodiversity and Natural Heritage in the Himalaya
You may also like...