Biodiversity and Natural Heritage of the Himalaya / Biodiversität und Naturausstattung im Himalaya. Vol. IV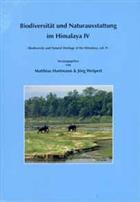 Description:
Contributions in German, English, French and Italian. Series covering biodiversity research in the Himalayas (taxonomy, phylogeny, faunistics and biogeography); including geology, geography, botany, veterinary zoology, zoology, especially entomology (which comprises more than 60% of the content)
Other titles from the series : Biodiversity and Natural Heritage in the Himalaya
You may also like...