Biodiversity, Biosystematics, and Ecology of Canadian Coleoptera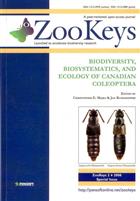 Description:
Zookeys 2 (Special Issue). Fourteen research articles on Canadian Coleoptera, mainly on the families Staphylinidae, Leiodidae, Histeridae, Nitidulidae, Cucujidae, Phalacridae, Silvanidae, Laemophloeidae, Tetratomidae, several aquatic groups, and others. The cover aspects of distribution, dispersal, zoogeographical status, phenology, and bionomics, the role of saproxylic beetles in forest ecosystems, and invasive species in native habitats
Other titles from the series : ZooKeys
You may also like...