Morphology of Baridinae and related groups (Coleoptera, Curculionidae) (ZooKeys 10)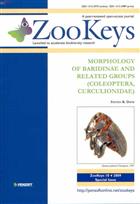 Description:
Text English. ZooKeys 10. First comprehensive review of morphology of Baridinae with comparisons with morphology of other closely related weevil subfamilies. This treatment is being presented in advance of a cladistic analysis of the subfamily based on morphology, thus much of this review pertains to describing structures worthy of inclusion in phylogenetic studies
Other titles from the series : ZooKeys
You may also like...