European bark and ambrosia beetles / Scolitidi d'Europa: types, characteristics and identification of mating systems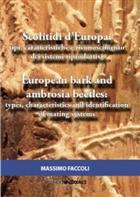 Description:
Text English/Italian. Bark and ambrosia beetles belong to a group of insects typical of forest habitats, boring characteristic galleries under the bark and within the wood. Because bark beetle species are very similar to each other morphologically, the identification of these insects is particularly complicated. This handbook provides allows identification of the main bark and ambrosia beetles occurring in European forests through the host tree and shape of their mating systems
Other titles from the series : WBA Handbooks
You may also like...