Le Formiche del Veneto - The Ants of Veneto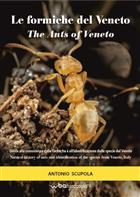 Description:
Text Italian/English (keys and descriptions). This guide provides a useful contribution to the knowledge of the ants of the Veneto. The first part provides general information on the family Formicidae (about 15,000 species known worldwide); the second part covers taxonomy (in Italian and English), including identification keys and species accounts for each of the species surveyed to date in the Veneto region. An appendix briefly illustrates the techniques for the collection, study and breeding of these social insects.
Other titles from the series : WBA Handbooks
You may also like...