Field Guide to the Bees of Great Britain and Ireland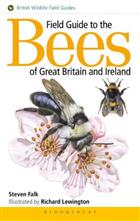 Description:
Comprehensive field guide to bees of Great Britain, Ireland and the Channel Islands, with detailed texts for all 275 species, covering field and microscopic characters, similar species, variation, flight season, habitat, flowers visited, nesting habits, status and distribution and parasites and associates. Fully illustrated with over 1,000 colour and b/w artworks by Richard Lewington, and over 700 colour photographs. 234 up-to-date distribution maps. Illustrated keys to genera and species.
Reprint of 2018 edition.
Other titles from the series : British Wildlife Field Guides
You may also like...