An Illustrated Key to the Cuckoo Wasps (Hymenoptera, Chrysididae) of the Nordic and Baltic Countries, with Description of a New Species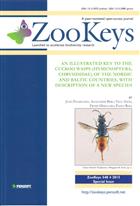 Description:
First comprehensive key to all 74 species of Chrysidid wasp found in the Nordic and Baltic countries. Includes information on distribution and biology of each species.
Other titles from the series : ZooKeys
You may also like...