Biological Consequences of Plate Tectonics: New Perspectives on Post-Gondwanaland Break-up-A Tribute to Ashok Sahni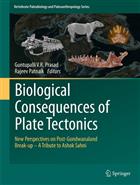 Publisher : Springer
Illustrations : 50 col illus, 87 b/w illus
Description:
This book recognizes and celebrates the contributions of Professor Ashok Sahni to the field of paleontology. Prof. Sahni established a School of Vertebrate Palaeontology at Panjab University, Chandigarh, India, where he trained many of today's vertebrate paleontologists of India. The book covers topics on evolutionary patterns, macroevolutionary events, origination and radiation events, changes in physical environments & climate and their implications for biodiversity dynamics, intercontinental affinities and biogeographic connections in a plate tectonic framework.
The book begins by exploring India in the age of the dinosaurs, discussing new fossil remains from the Jurassic Era, then moves through the Cretaceous and Eocene to provide a picture on faunal and floral changes in Gondwanaland in the context of plate tectonics. Furthermore, the book explores the evolutionary patterns and biotic dispersals that resulted from the northward drift of Indian plate during the Cretaceous and its collision with Asia in the Eocene. The respective chapters reveal the role of plate tectonics and climate in shaping the geographical distribution of plants and animals in Gondwana, specifically in India, as well as the post-India/Asia collision implications for biodiversity changes and biogeography in the region's continental environments. Given its scope, the book will appeal to vertebrate paleontologists, evolutionary biologists, and paleobiogeographers.
You may also like...