Biology and Management of the German Cockroach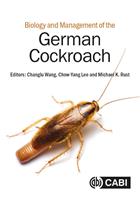 Description:
The German cockroach continues to be one of the most important indoor urban pests in the world. They contaminate foods, transmit pathogens and produce allergens that trigger asthma. The last seminal publication dedicated to the German cockroach was published in 1995 by Rust, Owens and Reierson, and numerous advances in management technology, products, delivery system, basic and applied research have occurred over the last two-and-a-half decades.
This book summarises the research on German cockroaches over the last 25 years with an emphasis on its biology and management. Fourteen authors contributed to this book, including university researchers and one pest management professional. In the preparation of this book, the authors provide a critical review of the research advancements in the past 25 years with the objective of making it a go-to reference on German cockroach biology and management.
Biology and Management of the German Cockroach will provide the reader with a one-stop compilation of comprehensive understanding into the pest. It will be a valuable reference book to researchers, university professors, graduate students, pest management professionals, health workers, government agencies and even the general public when dealing with pests and pesticides.
You may also like...