Birds and Mammals of the Galapagos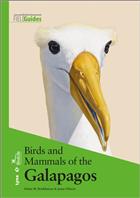 Description:
The Galapagos archipelago is one of the most famous destinations on Earth for lovers of natural history. Straddling the equator in the Pacific Ocean c. 1000 km west of Ecuador lies 'the world's natural laboratory' with its large radiations of mockingbirds and Darwin's finches. These remote islands of volcanic origin have been colonized by a remarkable and diverse wildlife, many of the animals being quite fearless of man. With 33 endemic bird species plus 12 endemic subspecies, and six endemic mammals, the islands are unsurprisingly popular with birders and general naturalists alike. This comprehensive field guide covers all of the birds and mammals known to occur, providing the latest insights on field identification and taxonomy for challenging groups such as pelagic birds, Darwin's finches, and cetaceans. The Galapagos is also known for its vagrants, which too are covered in detail, including several new records not published previously. Many hypothetical and potential species have been included in a separate section, to further promote exploration of these unique islands.
Other titles from the series : Lynx and BirdLife International Field Guides
You may also like...