Birds of Mongolia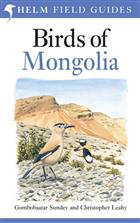 Description:
Mongolia is a huge landlocked country in the centre of Asia. It encompasses a diverse range of habitats including forests, vast treeless plains, the Altai Mountains and of course the Gobi Desert, and it is becoming an increasingly popular destination for birders. For dozens of steppe species and many others, Mongolia really is the place to go. This new field guide provides full details of every species to be found in the country. The book follows traditional field guide design with plates arranged opposite the text. Detailed maps, a mapping feat never before attempted for Mongolia, accompany the species entries.
Other titles from the series : Helm Field Guides
You may also like...