Birds of the Masai Mara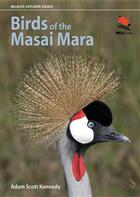 Description:
The only photographic guide to focus solely on the bird species of the Masai Mara National Reserve, Kenya. With an eye-catching layout, easy-to-use format, and no-jargon approach, the book contains more than 300 stunning photographs covering over 200 species of birds and is accessible and informative, rather than purely identification-based. A handy, brief introduction provides visitors with background on the habitats of the national park, and the guide's habitat-based approach makes it simple to identify any bird species according to where it is found. Based on the firsthand experiences of the author, Birds of the Masai Mara is an ideal companion to all those visiting the national reserve and to bird aficionados interested in learning more about the region.
Other titles from the series : Wildlife Explorer Guides
You may also like...