Animals of the Masai Mara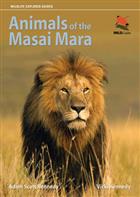 Description:
The only photographic guide specific to the animals of the Masai Mara National Reserve in southwest Kenya. A lavish photographic guide with more than 140 stunning photographs showcase 65 mammals and 17 reptile species, including 6 snakes. Designed to be informative and locally accurate, rather than purely identification-based, this easy-to-use book pays particular attention to wildlife behavior and is written from the firsthand experiences of the authors and the knowledge of local safari guides.
Other titles from the series : Wildlife Explorer Guides
You may also like...