Birds of the Philippines, Sumatra, Java, Bali, Borneo, Sulawesi, the Lesser Sundas and the Moluccas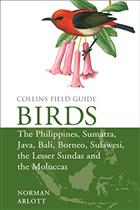 Description:
This comprehensive field guide features every species of bird you might encounter in the region, apart from non-established introductions. Also included are endemic species from Christmas Island in the Indian Ocean. Beautiful artwork depicts their breeding plumage, and non-breeding plumage when it differs significantly. This easy-to-use guide is the essential travel companion for experienced birdwatchers and novice birders alike. Clear format with detailed information for use in the field; Key identification features with information on habitat, songs and calls; Distribution maps show where each species is commonly found.
Other titles from the series : Collins Field Guide
You may also like...