Birds of the UK Overseas Territories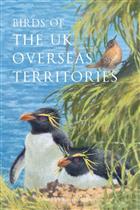 Description:
Based on a series of articles in the journal British Birds, this book highlights the international importance of the UK's 14 Overseas Territories for birds and other wildlife.
Many of these places are small islands dispersed mostly across the Atlantic, Antarctic and Pacific Oceans, where they are home to a quarter of the world's penguins and a third of the word's breeding albatrosses, as well as 34 species that are globally threatened.
With a foreword by RSPB President, Miranda Krestovnikoff, Birds of the UK Overseas Territories will be a 'must have' for anyone interested in international conservation or wanting to visit some of these jewels in the UK's natural history crown.
Other titles from the series : Poyser Monographs
You may also like...