Birdwing Field Guide to Indian Moths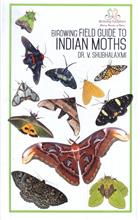 Description:
Features descriptions of 773 species from 37 micro- and macro-moth families depicted in 156 colour plates. More than 1000 colour photographs of moths have been used. The species description includes text and symbols. Symbols depict habitat preference, sexual dimorphism, proboscis status, pest status, attraction to light, flight time and month. Text includes description of adult, biology (behaviour, lifehistory, interesting facts) and distribution. For the first time common names have been coined for most of moth species. Introductory chapters include Introduction, Moth Studies, Distribution, Taxonomy, Moth Behaivour, Moth defenses, Breeding biology, Economic importance, Moth watching, Moth Education and Moth Photography. There are sections on the individual families with species descriptions.
You may also like...