Bringing Back the Beaver: The Story of One Man's Quest to Rewild Britain's Waterways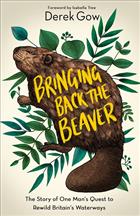 Description:
Bringing Back the Beaver is farmer-turned-ecologist Derek Gow's inspirational and often riotously funny firsthand account of how the movement to rewild the British landscape with beavers has become the single most dramatic and subversive nature conservation act of the modern era. Since the early 1990s - in the face of outright opposition from government, landowning elites and even some conservation professionals - Gow has imported, quarantined and assisted the reestablishment of beavers in waterways across England and Scotland. In addition to detailing the ups and downs of rewilding beavers, Bringing Back the Beaver makes a passionate case as to why the return of one of nature's great problem solvers will be critical as part of a sustainable fix for flooding and future drought, whilst ensuring the creation of essential lifescapes that enable the broadest possible spectrum of Britain's wildlife to thrive.
You may also like...