British Water Plants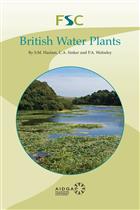 Description:
Enables identification of all the larger plants found in fresh water, including emergent plants. The identification keys use vegetative characters, like leaves and stems, so you do not have to wait for a plant to start flowering before you can identify it. First published in 1976, this guide is a favoutite of generations of botanists. For the 2019 edition, the scientific and common names have been fully updated to follow Stace (4th edition).
Other titles from the series : AIDGAP GUIDES
You may also like...