Brookgreen Gardens Sculpture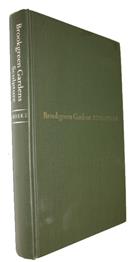 Description:
2nd edition. Situated between Myrtle Beach and Pawleys Island, in South Carolina. The garden was founded in 1931. It was intended to contain the sculpture of Anna Hyatt Huntington but gradually extended to be an outline collection representative of the history of American sculpture.
Condition
Vg, some light speckling to foredge and light marks to top of front board.
You may also like...