Bryophyte Biology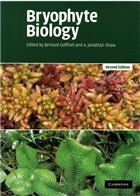 Description:
2nd edition. An extensive survey of hornworts, liverworts, and mosses for advanced students and researchers. This revised edition discusses fundamental topics in bryophyte biology, including morphological diagnoses, ecological significance, speciation, genomics, and conservation. With new chapters complementing updated ones from the original, it offers an expert analysis of the subject
Condition
Fine copy. From the library of Michael Proctor (1929-2017) (plant ecologist and author of the Collins New Naturalist volumes on Pollination and Vegetation of Britain & Ireland), with his small ownership label.
You may also like...