Bumblebees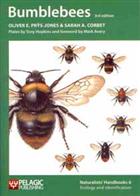 Description:
3rd edition. An indispensable guide to identification, ecology and study of bumblebees. This edition includes information on life history, ecology, foraging, parasites and conservation. A new chapter on the threats to bumblebees; their crucial role as pollinators; ways to promote their survival; advantages and problems posed by their commercial use; as well as updated colour plates, keys and distribution maps of all British species (including Bombus hypnorum)
Other titles from the series : Naturalists' Handbooks
You may also like...