Butterflies of Alaska: A Field Guide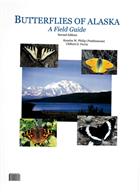 Description:
2nd edition. Species pages have been reformatted so that there are not multiple species on a single page. Due to DNA barcoding an additional species has been included, Oeneis tanana. Several distribution maps have been updated based on additional records received since the first edition went to press. A field guide to the 80 resident and 5 casual species recorded from Alaska. All are illustrated in full colour. Species descriptions include information on geographic distribution, habitat, basic biology, flight period, diagnostic characters, and field behavior. A species index and plant index are included.
You may also like...