Butterflies of the Bulolo-Wau Valley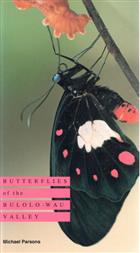 Description:
Handbook no. 12 of the Wau Ecology Institute.
Condition
Top corner bumped, affecting front cover and the first 40 pages.
Other titles from the series : Wau Ecology Institute Handbook
Click to view all titles in this series...
Gressitt, J.L.; Hornabrook, R.W.
Price £20.00
You may also like...