Butterfly Walks in Somerset and Bristol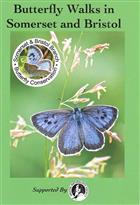 Description:
New edition. 37 walks with maps, site access information and lists of the key butterfly species which may be seen. Illustrated with photos of all the butterflies which occur in the area, a map for each walk and details of how to find each site. There is a section on day-flying moths and flight charts for both the butterflies and moths are included.
You may also like...